Tras un comienzo de año de gran solidez, la mayoría de los mercados desarrollados principales perdieron momento en febrero. Los riesgos de recesión parecen estar cediendo dada la resiliencia del mercado de trabajo. Sin embargo, si evaluamos de cerca la situación, los datos de empleo se están enfriando. Por ahora, creemos que la inflación seguirá cayendo en el primer semestre de 2023 e incluso durante la segunda mitad del año. Aunque nos sigue preocupando que la inflación se desancle en algún momento, parece ser un riesgo para el segundo semestre del año.
La solidez del mercado laboral y la inflación han llevado a los mercados a esperar una Reserva Federal más restrictiva en sus políticas a corto plazo. Sin embargo, a medida que profundizamos en los datos, parece que la notable resiliencia del mercado laboral podría haber sido exagerada hasta ahora. Los datos del JOLTS (Jobs Openings and Labor Turnover Survey)1 van con un mes de retraso y no siempre indican la tendencia en tiempo real. Los datos de mayor frecuencia sugieren que las ofertas de trabajo podrían estar comenzando a caer, por lo que la narrativa podría cambiar.
Los mercados parecen estar utilizando datos atrasados del mercado laboral y descuentan una actitud restrictiva de la Reserva Federal. Si de hecho los datos de empleo se estuvieran enfriando, esto supondría otro giro importante y los inversores probablemente tendrían que cambiar de rumbo. Es probable que este reequilibrio del mercado laboral sea clave para un menor crecimiento de los salarios y, en última instancia, de la inflación.
La enorme oleada de ventas de activos en febrero se basa en una narrativa del mercado de inflación creciente y política monetaria más restrictiva. Sin embargo, prevemos que los mercados suban si esta tendencia se invierte. La estabilización de los riesgos de política e inflación puede ser favorable para los mercados bursátiles, pues se espera que el alto nivel de efectivo en los mercados monetarios regrese una vez que cambie la narrativa. Teniendo esto en cuenta, continuamos agregando más riesgo a nuestras carteras. Introdujimos diversos cambios tácticos durante el mes, que describimos a continuación. También incorporamos opciones de venta a las carteras antes de la publicación de los datos del IPC estadounidense a mediados de mes para mitigar el descenso, manteniendo, al mismo tiempo, un posicionamiento proclive al riesgo.
Los cambios tácticos que llevamos a cabo durante febrero son reflejo de esto:
En renta variable global 'growth', pasamos de la infraponderación a la neutralidad en torno a la renta variable global de crecimiento dado que las condiciones macro pueden favorecer a esta clase de activos durante un horizonte táctico. Las valoraciones siguen siendo un obstáculo dado que la prima sobre las acciones de valor o los índices de referencia mixtos sigue siendo elevada en comparación con las tendencias anteriores a la COVID-19.
En acciones del sector de atención sanitaria estadounidense, pasamos de una posición de sobreponderación a otra neutral en acciones de atención sanitaria estadounidense. Iniciamos una sobreponderación en diciembre como sector defensivo hacia una beta menor. Sin embargo, nuestro incremento del riesgo implica que ya no sea necesario. Además, el sector está experimentando considerables revisiones a la baja de los beneficios por las presiones sobre los márgenes y todavía registra un exceso de inversión tras las marcadas salidas de fondos de 2022.
En renta variable europea, seguimos elevando nuestra sobreponderación en acciones de bancos europeos al ceder por ahora los riesgos de recesión, en particular, en Europa. El sector evoluciona de manera favorable dado que continúa beneficiándose del alza de los tipos en la zona euro, el incremento de los márgenes netos de intereses y las positivas tendencias de la calidad de los activos.
Suscribimos una posición de sobreponderación en el índice FTSE MIB porque los activos italianos se pueden ver favorecidos de la política fiscal y monetaria más coordinada de la UE, que reduce la fragmentación y los riesgos específicos de cada país. El índice ofrece exposición a sectores que se muestran infravalorados o que están posicionados para evolucionar favorablemente en el entorno actual.
En high yield en euros seguimos ampliando nuestra sobreponderación existente porque los obstáculos macro para Europa se han moderado de forma considerable en las últimas semanas, lo cual debería permitir que los diferenciales permanezcan relativamente estables y se estrechen.
En las carteras que lo permiten, ampliamos nuestra sobreponderación existente a bonos mexicanos con vencimientos cortos. Los bonos ofrecen un carry atractivo, al tiempo que percibimos la posibilidad de un alza delimitada para las divisas en 2023 con respecto al dólar estadounidense.
Suscribimos una sobreponderación en bonos de titulización de activos (ABS) globales durante el mes y la ampliamos antes del cierre del periodo por nuestra convicción en esta clase de activos. Los fundamentales del mercado de la vivienda son más resilientes por la escasa oferta y los bajos niveles de existencias, al tiempo que las normas de suscripción de hipotecas y la calidad de los prestatarios son mucho mejores que durante el ciclo de la crisis financiera global.
A continuación, proporcionamos nuestras opiniones tácticas: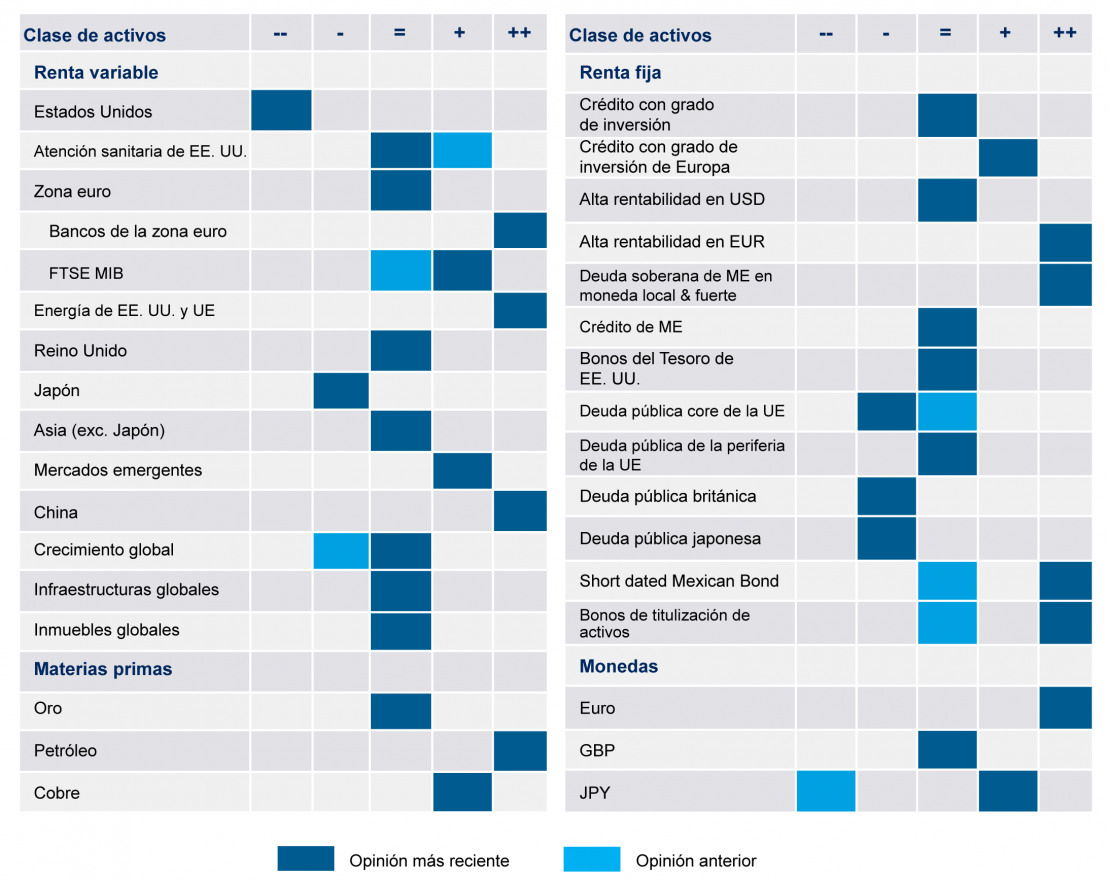 Fuente: Equipo MSIM GBaR. La opinión anterior es del 31 de enero de 2023 y la actual, del 28 de febrero de 2023. La información que aquí se recoge reviste fines meramente ilustrativos y no constituye una oferta o una recomendación para comprar o vender títulos concretos ni para adoptar una estrategia de inversión determinada. Las opiniones tácticas que figuran anteriormente son un reflejo general de las opiniones y las decisiones de nuestro equipo, que se expresan para comunicarse a nuestros clientes. La información que aquí se incluye no pretende abordar los objetivos financieros, la situación o las necesidades específicas de ningún inversor en concreto. Las señales representan la opinión del equipo GBaR sobre cada clase de activos. Una señal negativa indica una opinión relativa negativa o infraponderada, una señal positiva indica una opinión relativa positiva o sobreponderada.
1 Encuesta mensual publicada por la Oficina de Estadísticas Laborales (BLS) de Estados Unidos, un indicador general de datos de empleo que incluye vacantes, contrataciones y despidos.
The index performance is provided for illustrative purposes only and is not meant to depict the performance of a specific investment. Past performance is no guarantee of future results.  See Disclosure section for index definitions.
RISK CONSIDERATIONS
There is no assurance that the Strategy will achieve its investment objective. Portfolios are subject to market risk, which is the possibility that the market values of securities owned by the portfolio will decline and that the value of portfolio shares may therefore be less than what you paid for them.  Market values can change daily due to economic and other events (e.g. natural disasters, health crises, terrorism, conflicts and social unrest) that affect markets, countries, companies or governments. It is difficult to predict the timing, duration, and potential adverse effects (e.g. portfolio liquidity) of events.  Accordingly, you can lose money investing in this portfolio. Please be aware that this strategy may be subject to certain additional risks. There is the risk that the Adviser's asset allocation methodology and assumptions regarding the Underlying Portfolios may be incorrect in light of actual market conditions and the Portfolio may not achieve its investment objective. Share prices also tend to be volatile and there is a significant possibility of loss. The portfolio's investments in commodity-linked notes involve substantial risks, including risk of loss of a significant portion of their principal value. In addition to commodity risk, they may be subject to additional special risks, such as risk of loss of interest and principal, lack of secondary market and risk of greater volatility, that do not affect traditional equity and debt securities. Currency fluctuations could erase investment gains or add to investment losses. Fixed-income securities are subject to the ability of an issuer to make timely principal and interest payments (credit risk), changes in interest rates (interest-rate risk), the creditworthiness of the issuer and general market liquidity (market risk). In a rising interest-rate environment, bond prices may fall and may result in periods of volatility and increased portfolio redemptions. In a declining interest-rate environment, the portfolio may generate less income. Longer-term securities may be more sensitive to interest rate changes. Equity and foreign securities are generally more volatile than fixed income securities and are subject to currency, political, economic and market risks. Equity values fluctuate in response to activities specific to a company. Stocks of small-capitalization companies carry special risks, such as limited product lines, markets and financial resources, and greater market volatility than securities of larger, more established companies. The risks of investing in emerging market countries are greater than risks associated with investments in foreign developed markets. Exchange traded funds (ETFs) shares have many of the same risks as direct investments in common stocks or bonds and their market value will fluctuate as the value of the underlying index does. By investing in exchange traded funds ETFs and other Investment Funds, the portfolio absorbs both its own expenses and those of the ETFs and Investment Funds it invests in. Supply and demand for ETFs and Investment Funds may not be correlated to that of the underlying securities. Derivative instruments can be illiquid, may disproportionately increase losses and may have a potentially large negative impact on the portfolio's performance. A currency forward is a hedging tool that does not involve any upfront payment. The use of leverage may increase volatility in the Portfolio.
INDEX DEFINITIONS
The indexes shown in this report are not meant to depict the performance of any specific investment, and the indexes shown do not include any expenses, fees or sales charges, which would lower performance. The indexes shown are unmanaged and should not be considered an investment. It is not possible to invest directly in an index.
"Bloomberg®" and the Bloomberg Index/Indices used are service marks of Bloomberg Finance L.P. and its affiliates, and have been licensed for use for certain purposes by Morgan Stanley Investment Management (MSIM). Bloomberg is not affiliated with MSIM, does not approve, endorse, review, or recommend any product, and. does not guarantee the timeliness, accurateness, or completeness of any data or information relating to any product.
JOLTS (Job Openings and Labor Turnover Survey):  This monthly survey, conducted by the Bureau of Labor Statistics, collects data on job openings, hires and separations from some 16,000 US businesses. It covers all nonagricultural industries in the public and private sectors for the 50 states and the District of Columbia.
FTSE (MIB): The FTSE MIB is a benchmark index for the Italian equity markets. Capturing approximately 80% of the domestic market capitalisation, the index is comprised of highly liquid companies in Italy.
Consumer Price Index (CPI): The Consumer Price Index (CPI) is a measure that examines the weighted average of prices of a basket of consumer goods and services, such as transportation, food and medical care. The CPI is calculated by taking price changes for each item in the predetermined basket of goods and averaging them; the goods are weighted according to their importance. Changes in CPI are used to assess price changes associated with the cost of living.
Asset Backed Securities (ABS): a type of financial investment that is collateralized by an underlying pool of assets—usually ones that generate a cash flow from debt.
DISCLOSURES
There is no guarantee that any investment strategy will work under all market conditions, and each investor should evaluate their ability to invest for the long-term, especially during periods of downturn in the market.
A separately managed account may not be appropriate for all investors. Separate accounts managed according to the particular Strategy may include securities that may not necessarily track the performance of a particular index. Please consider the investment objectives, risks and fees of the Strategy carefully before investing. A minimum asset level is required.
For important information about the investment managers, please refer to Form ADV Part 2.
The views and opinions and/or analysis expressed are those of the author or the investment team as of the date of preparation of this material and are subject to change at any time without notice due to market or economic conditions and may not necessarily come to pass. Furthermore, the views will not be updated or otherwise revised to reflect information that subsequently becomes available or circumstances existing, or changes occurring, after the date of publication. The views expressed do not reflect the opinions of all investment personnel at Morgan Stanley Investment Management (MSIM) and its subsidiaries and affiliates (collectively «the Firm»), and may not be reflected in all the strategies and products that the Firm offers.
Forecasts and/or estimates provided herein are subject to change and may not actually come to pass. Information regarding expected market returns and market outlooks is based on the research, analysis and opinions of the authors or the investment team. These conclusions are speculative in nature, may not come to pass and are not intended to predict the future performance of any specific strategy or product the Firm offers. Future results may differ significantly depending on factors such as changes in securities or financial markets or general economic conditions.
This material has been prepared on the basis of publicly available information, internally developed data and other third-party sources believed to be reliable. However, no assurances are provided regarding the reliability of such information and the Firm has not sought to independently verify information taken from public and third-party sources.
This material is a general communication, which is not impartial and all information provided has been prepared solely for informational and educational purposes and does not constitute an offer or a recommendation to buy or sell any particular security or to adopt any specific investment strategy. The information herein has not been based on a consideration of any individual investor circumstances and is not investment advice, nor should it be construed in any way as tax, accounting, legal or regulatory advice. To that end, investors should seek independent legal and financial advice, including advice as to tax consequences, before making any investment decision.
Past performance is no guarantee of future results. Charts and graphs provided herein are for illustrative purposes only.
The indexes are unmanaged and do not include any expenses, fees or sales charges. It is not possible to invest directly in an index. Any index referred to herein is the intellectual property (including registered trademarks) of the applicable licensor. Any product based on an index is in no way sponsored, endorsed, sold or promoted by the applicable licensor and it shall not have any liability with respect thereto.
This material is not a product of Morgan Stanley's Research Department and should not be regarded as a research material or a recommendation.
The Firm has not authorised financial intermediaries to use and to distribute this material, unless such use and distribution is made in accordance with applicable law and regulation. Additionally, financial intermediaries are required to satisfy themselves that the information in this material is appropriate for any person to whom they provide this material in view of that person's circumstances and purpose. The Firm shall not be liable for, and accepts no liability for, the use or misuse of this material by any such financial intermediary.
This material may be translated into other languages. Where such a translation is made this English version remains definitive. If there are any discrepancies between the English version and any version of this material in another language, the English version shall prevail.
The whole or any part of this material may not be directly or indirectly reproduced, copied, modified, used to create a derivative work, performed, displayed, published, posted, licensed, framed, distributed or transmitted or any of its contents disclosed to third parties without the Firm's  express written consent. This material may not be linked to unless such hyperlink is for personal and non-commercial use. All information contained herein is proprietary and is protected under copyright and other applicable law.