2023 will be a year when the investment environment slowly gets back to normality. Inflation will come down – even if not quite as fast as the market seems to expect. Economies will struggle for growth, but manage to stave off a deep downturn.
Equities are set to tread water, but fundamentals will suit high quality bonds. Meanwhile, emerging market assets, particularly local currency debt, are set to shine amid a weakening dollar and a revival in the Chinese economy.
The global slowdown – a number of indicators suggest various leading economies might already be in recession – has been the most anticipated one in living memory. Central banks have responded to this year's surge in inflation by putting on the brakes, and that's filtering through to their economies. As a result, global annualised quarterly real GDP growth is set to run at below potential through to at least the final three months of 2023 (see Fig. 1).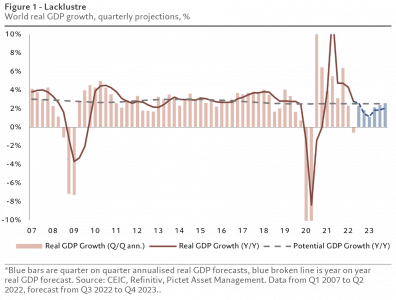 But at the same time, the slowdown is likely to be less painful than past recessions. Corporate and household balance sheets are healthy, both still have excess savings built up during the Covid crisis, particularly in the US. This has allowed them to absorb some of the impact of inflation, while at the same time banks have continued to lend. Nominal growth, which is key to economies' resilience, has been running at some 10 per cent, largely on the back of very high inflation. So, unlike during the global financial crisis of 2008, this time there is no sign of a looming debt crisis in any of these economic segments.
An inflationary hurdle
Inflation will remain a hurdle, but it won't be the market's primary driver during the coming year (see Fig. 2). While there are signs it has already peaked in most major economies, we think investors are too optimistic about how fast inflation is likely to fall. The jobs market especially in the US remains strong, supporting wages. And components such as rents, which are a sizeable proportion of the consumption basket, are slow moving, taking longer to normalise.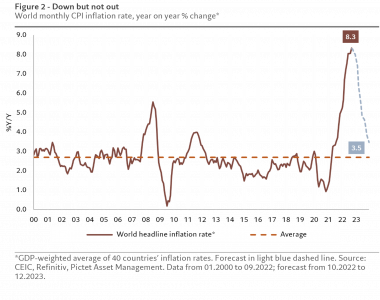 We also believe central banks will be cautious about entering into a new easing cycle – certainly, they won't make the switch anywhere near as quickly as the market expects. In part that's because central bankers are particularly sensitive to the risks of cutting rates before inflation has been fully suppressed. To do so would risk another, even less controllable surge in inflation, which would shatter their credibility and force even more drastic efforts to get back to price stability. We don't think they will start to ease policy until 2024.
Direction of travel is key
What matters most for markets, however, is that official rates will have stopped rising. The end of monetary tightening will be greeted with relief, giving a lift to high quality debt – both sovereign bonds and investment grade credit. Shorter maturity debt is likely to benefit first, with bonds further along the yield curve showing more modest gains amid expectations of an economic revival. Investors should be more cautious about higher yielding debt, with the economic downturn is set to push up default rates.
And once rates peak, equities should start to benefit from improving valuation multiples offsetting weaker earnings – though that's more a story for the second half of the year.
With the US further along its tightening cycle than other major central banks, a peak in US rates is likely to put downward pressure on the dollar. The greenback is already considerably overvalued and its long-term fundamentals are poor – a currency's long-term value is determined by fiscal discipline and productivity growth and the US scores badly on both counts.
A weakening dollar will be beneficial to emerging market assets, particularly emerging market local currency debt, which we see as a bright spot on the investment landscape, not just during the coming year but for some time to come. Further support for emerging market bonds and stocks is set to come from China's economic revival. We think that the government will have to respond to recent protest against its draconian zero-Covid policy by relaxing restrictions. At the same time, it has been offering some support to the country's vital but beleaguered real estate sector. Together, we think these effects will underpin growth of some 5 per cent over the coming year. Healthier Chinese growth will also benefit other emerging Asian economies.
In a nutshell, 2023 will be a year of caution for investors. But after a miserable 2022, when virtually all asset classes suffered drawdowns (with the notable exception of energy), there will also be reasons for cautious optimism.
Opinion written by Luca Paolini, Pictet Asset Management's Chief Strategist, and Arun Sai, Pictet Asset Management's Senior Multi Asset Strategist
Discover Pictet Asset Management's full Annual Outlook for 2023
Information, opinions, and estimates contained in this document reflect a judgment at the original date of publication and are subject to risks and uncertainties that could cause actual results to differ materially from those presented herein.
Important notes
This material is for distribution to professional investors only. However, it is not intended for distribution to any person or entity who is a citizen or resident of any locality, state, country or other jurisdiction where such distribution, publication, or use would be contrary to law or regulation.
The information and data presented in this document are not to be considered as an offer or sollicitation to buy, sell or subscribe to any securities or financial instruments or services.
Information used in the preparation of this document is based upon sources believed to be reliable, but no representation or warranty is given as to the accuracy or completeness of those sources. Any opinion, estimate or forecast may be changed at any time without prior warning.  Investors should read the prospectus or offering memorandum before investing in any Pictet managed funds. Tax treatment depends on the individual circumstances of each investor and may be subject to change in the future.  Past performance is not a guide to future performance.  The value of investments and the income from them can fall as well as rise and is not guaranteed.  You may not get back the amount originally invested.
This document has been issued in Switzerland by Pictet Asset Management SA and in the rest of the world by Pictet Asset Management (Europe) SA, and may not be reproduced or distributed, either in part or in full, without their prior authorisation.
For US investors, Shares sold in the United States or to US Persons will only be sold in private placements to accredited investors pursuant to exemptions from SEC registration under the Section 4(2) and Regulation D private placement exemptions under the 1933 Act and qualified clients as defined under the 1940 Act. The Shares of the Pictet funds have not been registered under the 1933 Act and may not, except in transactions which do not violate United States securities laws, be directly or indirectly offered or sold in the United States or to any US Person. The Management Fund Companies of the Pictet Group will not be registered under the 1940 Act.
Pictet Asset Management (USA) Corp ("Pictet AM USA Corp") is responsible for effecting solicitation in the United States to promote the portfolio management services of Pictet Asset Management Limited ("Pictet AM Ltd"), Pictet Asset Management (Singapore) Pte Ltd ("PAM S") and Pictet Asset Management SA ("Pictet AM SA"). Pictet AM (USA) Corp is registered as an SEC Investment Adviser and its activities are conducted in full compliance with SEC rules applicable to the marketing of affiliate entities as prescribed in the Adviser Act of 1940 ref.17CFR275.206(4)-3.
Pictet Asset Management Inc. (Pictet AM Inc) is responsible for effecting solicitation in Canada to promote the portfolio management services of Pictet Asset Management Limited (Pictet AM Ltd) and Pictet Asset Management SA (Pictet AM SA).
In Canada Pictet AM Inc is registered as Portfolio Manager authorized to conduct marketing activities on behalf of Pictet AM Ltd and Pictet AM SA.