2022 ended with 5 new CKDs and 62 CERPIs that meant commitments for $7.381 million dollars of which 12% was called, where the interest was marked towards vehicles that invest globally.  

With these figures, the number of CERPIs (141) is already higher than that of CKDs (128); and the amount of CERPI commitments is almost as high as that of CKDs ($21.939 vs. $23.846 million dollars). An important difference is that 77% of CKDs have been called, while 31% of CERPIs have been called. CKDs distributions have been higher.

The market value of CERPIs is starting to become relevant: 64% corresponds to CKDs and 36% are CERPIs, while in aggregate returns CERPIs begin to stand out despite being 5 years old since the first investments were authorized for AFOREs. While CKDs took 7 years to double their current market value, CERPIs achieved it in less than 4 years.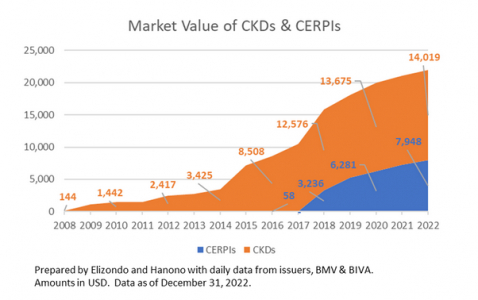 After almost 14 years since the AFOREs started investing in this asset class, it is already starting to contribute to performance. The accumulated yield of AFOREs between January 2009 and September 2022 is 7.9% in pesos according to CONSAR's Quarterly Report to Congress as of the third quarter of 2022 (page 37). Investments in real rate bonds (Udibonos) contributed with 2.1%; international bonds and instruments with 1.4% to the yield respectively; local corporate debt contributes 1.1%; while investments in national equities 0.4% and Fibras, CKDs and CERPIs contribute with 0.3%, where some AFOREs achieve up to 0.4 and 0.5%. The contribution to yield is low so far but should gradually increase as these investments close their cycle.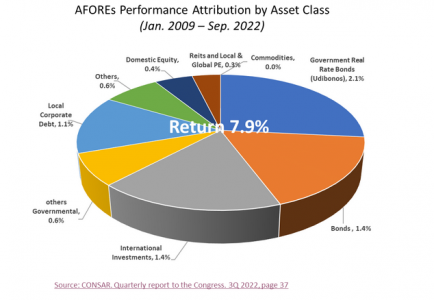 If we consider the 8% rate (prefer rate) as a threshold to distinguish the most profitable funds; with IRR above 8% we have 37 out of 128 CKDs (29%) and 36 out of 141 CERPIs (26%), which is a good number considering that CKDs emerged in 2009 and CERPIs started making global investments in 2018. 
Of the 37 CKDs with IRR above 8%: 11 funds are Real Estate (out of a total of 44); 9 Private Equity (30); 8 Credit (17); 7 Infrastructure (17) and only 1 each in Energy (12) and Fund of Funds (5).
Of the 36 CERPIs, 33 are Fund of Funds and Feeders while one is Infrastructure, one is Debt and one is Private Equity.
Column by Arturo Hanono