Historically, Japan has been a difficult market for many overseas investors to fully comprehend, with several misconceptions about the Japanese corporate sectors.  This offers compelling opportunities for active managers such as Nomura Asset Management to add value through their proprietary research, market insights and company engagement.
Nomura Asset Management will host the "Rediscovering Japan" virtual conference on January the 26th , where you will learn more about the current opportunities from our experts, and hear market insights from the guest speaker Seiji Kihara, Member of the House of Representatives.

Yuichi Murao, CFA, Senior Managing Director and Chief Investment Officer, Equities, will open the event with the Bank of Japan's monetary policy outlook and the impact on exchange rates.
Andrew McCagg, Senior Client Portfolio Manager, will present the "Japanese Equity Market Outlook for 2023".
Seiji Kihara, member of the House of Representatives and deputy Chief Cabinet Secretary, will speak on "Towards Realizing a New Form of Capitalism". Kihara also serves as special advisor to the Prime Minister for National Security Affairs.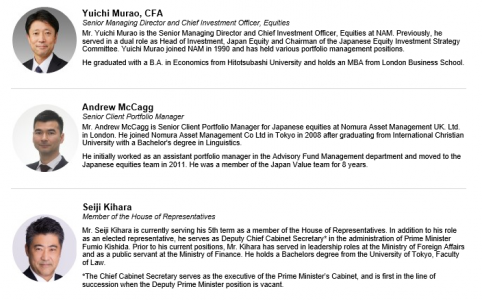 Please register here: click here